Meals
Now that lock–down has been eased, we are very happy to say that we are welcoming visitors again. We look forward to seeing you soon. Please have a look at the Anti–Covid Measures we have introduced.
You will get a good breakfast at Ullathorns Farm, but we are not able to offer an evening meal. There are however many good places to eat within easy reach.
Farmhouse Breakfast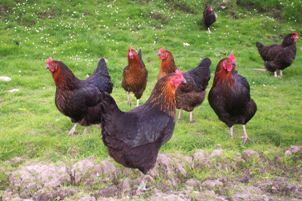 Breakfast is served at separate tables in the lounge / breakfast room. The precise menu offered varies from day to day but will always include:–
A good selection of juices, fruit, yogurt and cereals
Your choice of cooked breakfast
Tea, coffee, toast and various jams and marmalade
Eggs come from our own chickens – and are about as fresh as you can get.
Most of the bacon and sausages served at Ullathorns come from pigs we have raised on the farm. Otherwise we buy from William Peat's Butchers, formerly Steadman's, in Sedbergh.
Home–baked bread is usually on offer, but cannot be guaranteed especially at busy times on the farm.
Eating Out
There are several good places to eat within a ten minute drive of Ullathorns Farm, and a couple that can be reached on foot in about forty minutes.
The Barbon Inn — (2½ miles) a popular village pub.
The Pheasant Inn — (4½ miles) the village pub–restaurant in Casterton.
Sedbergh Website — (5½ miles) market town with two pubs and many cafés and restaurants
Kirkby Lonsdale — (6½ miles) market town with several places to eat